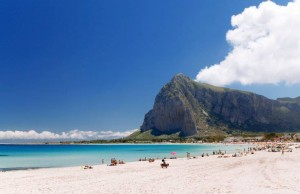 Emotions in the blue sky of the beautiful beach of San Vito lo Capo (TP), from 25th to 28th May: sun, wind, sea and kite exhibitions. The event is dedicated to an old sporting and recreational object in different forms: kites made with leaves and rice paper, with designs that evoke flora and fauna with lots of colours.
The village of San Vito with its climate, the wonderful beach, the crystal clear sea,  fresh fish and intense scents and panoramas, invite the tourists to spend an unforgettable holiday in a Villa in San Vito Lo Capo.
The program of the kite festival is very rich with suggestive shows such as pyrotechnic kites, which, floating in the night sky, will give birth to a game of lights similar to the ones created by the fireworks. And again, an acrobatic kite race that will make choreography on the notes of musical tracks chosen by the participants in the event.
On the Northwestern coast of Sicily, stretched out and enclosed in the bay between the nature reserve of the Zingaro and Monte Cofano rises San Vito Lo Capo  the city of Cous Cous, a plate of peace and a symbol of integration between people and different cultures. The distance from Trapani is about 39 km (100 km from Palermo), 6 meters above sea level, San Vito Lo Capo includes the hamlets of Macari and Castelluzzo. Village of seaside tradition, developed around the ancient Saracen fortress, later transformed into a sanctuary dedicated to San Vito, today the main activity is tourism. Of particular interest are the Torrazzo, the Sanctuary and the Temple of Santa Crescenza, all in Arabic-Norman style. Between San Vito Lo Capo and Castellammare del Golfo, the hill slopes that descend to the sea, in a myriad of small bays, announce the beginning of the Zingaro Nature Reserve.