Every year in October comes the time of the most prickly fruits of Sicily: the sweet prickly pear is the true star of Sicilian Autumn, especially in the Southern area of the island, where the Prickly Pear Fest takes place. The cultivation of the prickly pear is tipically of Mexican origin; the fruit has been then brought to Italy, and specifically in Sicily, thanks to the Spanish about five centuries ago, and since then it become one of the most loved seasonal fruits around here.
On October 24, 25 and 26 you'll have indeed the chance to join one of Sicily's traditional country fests, held every year in late October in Santa Margherita di Belice. The festival will go on for three days with a packed schedule that will include live shows, culinary competitions, wine tastings, and of course a lot of food tastings dedicate to the fruit and to the typical recipes that include the prickly pear as an ingredient. You'll also have the chance to taste some other local delicacy, such as the famous cheese "vastedda", specifically produced in the Belice Valley.
During the days of the festival you can also join one of the guided tours across the countryside to visit the cultivated fields of prickly pears. Among the side events of the Prickly Pear Fest a vintage cars rally is scheduled on the streets of the town and in its surroundings.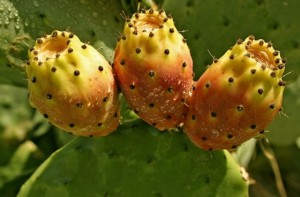 The fest will be a perfect opportunity to discover the beauty of Santa Margherita di Belice. The town is located between the provinces of Trapani, Palermo and Agrigento: here the visitors can immerse themselves in the places where the writer Giuseppe Tomasi di Lampedusa found the inspiration for its novel The Leopard ("Il Gattopardo"),  Santa Margherita di Belice in the novel and in the movie by Luchino Visconti becomes the suggestive Donnafugata.
Take your time and visit the beautiful Palazzo Filangeri-Cutò and its gardens. Inside the palace, built in the 17th century by the Corberas, a noble family of Spanish origin, you'll find the Museum of the Leopard.
In the old Piazza Matteotti you'll still see the signs of the earthquake that in 1968 hit the whole area and left its indelible mark on ancient facade of the cathedral of the town, turned now into a museum dedicated to the earthquake.