"Custonaci Beith Lehem": in the old town center of Custonaci, you will enjoy a month of magical Christmas atmosphere: street markets, concerts, exhibitions, cultural tours, entertainment and a "gastronomic" village. There will be also a suggestive living Nativity scene in the Mangiapane Cave in the days of 25 and 26 December, and from 5 to January 8. A real movie set with representations of craftsmanship and rural life with sounds, smells and colors. The cast of the Nativity scene is composed of over 160 performers, including artists and craftsmen from all over Sicily.
Also in Christmas period, in Sicily there is a very good weather so you may have the opportunity to have some day trips in the surroundings, loooking for an accomodation in one of our Villas to rent in Trapani and starting from there to join Custonaci and other places.
The territory of Custonaci, located at the northern end of the province of Trapani, overlooking the Tyrrhenian Sea.  Custonaci rises on a hill at 186 meters above sea level. It acquires municipal autonomy in 1948 and became a town in 2004. Its history is linked to Erice, which was in the past, the holder of several neighbouring territories. Currently the city of Custonaci, international city of marble, is divided into different communities : Sperone, Santa Lucia, Purgatorio, Baglio Messina, Scurati, Baglio Mogli Belle, Cornino, Assieni, Frassino, Tono. The main economy of the town is represented by marble and the extraction of the famous Perlato  of Sicily (a typical pearly marble. Custonaci territory includes a large marble basin, which has given rise to numerous mines. Since 1800, "Libeccio Antico"  was extracted in Custonaci: it is a pinkish marble that we find in all the Sicilian Baroque churches.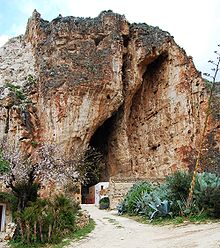 A few kilometres far from Custonaci there is a small village, named Scurati, full of littles houses scattered like inside a Nativity scene and many natural caves. The largest of these is Grotta Mangiapane, where every year takes place the Living Nativity scene.