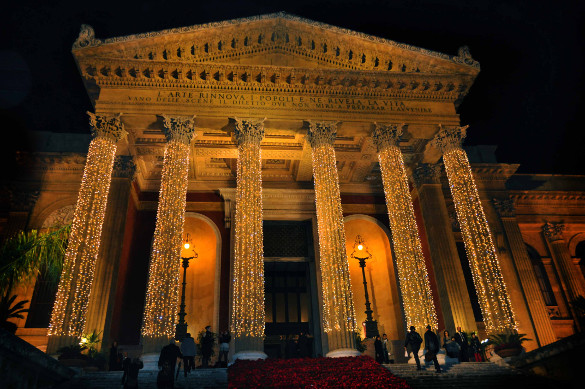 We started the countdown to Christmas. Too soon? Not here in Sicily! Sure we know sun, beaches and crystal sea is what all of you think of when the name "Sicily" comes up. The island though has a unique charm during winter, when Mount Etna gets covered in snow, and fairs and markets start sprouting in the small towns as well as in the big cities.
If you are looking for a place to spend your Christmas holidays, Sicily could be the perfect choice to live a sweet, fairy atmosphere, surrounded by am unusual kind of Christmas magic.
Christmas season in Sicily usually begins on 8th December, when families traditionally decorate their homes, put up their Christmas tree and recreate the Nativity scene with traditional wooden statuettes.
If you are looking for an accommodation in Sicily for Christmastime, check out some of our estates our villas in Sicily catalogue. An unusual winter holiday could be the perfect present under the Christmas tree!
Now, we would like to suggest you a couple of things to do in Sicily for Christmas.
First of all, breath. There is something extraordinary into Sicilian winter sky. So, just breath and keep your eyes well open: Sicily will show you her new face and the better way to experience the deep sense of Christmas. The scent in the streets is a mixture of sweets, smoke from the carts selling roast chestnuts, and sea.
Then celebrate. It will be the best memory of your trip: engage conversations in the old trattorias, toast, and smile. You will love the way Sicilians will welcome you.
Go sight-seeing. Everybody has got a clear image of Sicily during summer in his mind, but what about winter? Discover how different the cities are, the seaside walks are something spectacular, and the old towns of Palermo, Catania, Siracusa and many more, become something totally different once the summer is over.
Stay tuned, Christmas in Sicily is coming… and we have so many things to reveal about it.