38th Edition of Ottobrata Zafferanese, the famous festival of Zafferana Etnea, will take place on each Sunday of October. Protagonists of each Sunday in Zafferana Etnea are the typical products of the earth; the visitor attracted by the typical Sicilian gastronomy will find the opportunity to appreciate grape, wine, mustard, honey, apples, seasonal fruits (prickly pears, pomegranates, walnuts, hazelnuts, chestnuts, pistachios and much more ),and also the mushrooms of Etna, oil, olives and preserves in oil. Piazza Umberto, as every year, will host a lot of stands where you can taste the local sweets, like the Leaves of Tea and the Skier Biscuits: it is a soft biscuit covered with fine chocolate, and it owes its name to the Alpine skiers which used to taste this sweet before or after their excursions on the snow Etna, while standing in Zafferana to recharge their energies. Liqueurs, wines, honey, nougat and caramelized nuts, pistachio ice cream and many other delicacies are also typical of Zafferana Etnea. The Villa Comunale, the public park, below the square, instead, will host the stands that will promote sausages, typical Sicilian cheese and preserves. Not to be missed, then, the different events of the Slow Food itinerary, during which it will be possible, through guided tastings, taste different Sicilian products.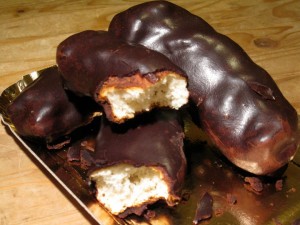 The festival is also dedicated to crafts: all the itinerary through the old town center you will find exhibitions of ancient crafts which nowadays are disappearing. The most curious visitors can admire the work of sculptors of wood and lava stone, painters of the typical Sicilian carts, embroiderers, wrought iron workers, puppeteers. Along this itinerary, there will be also several places that, like every year, will host various exhibitions of paintings, photography and crafts.
In this festive atmosphere music and shows cannot miss: so on every Sunday, at different times of the day, music shows of various kinds will take place, as well as dance performances; and for the children there will be so much entertainment and animation with actors, acrobats and tightrope walkers. For the more adventurous, however, every Sunday will be offered the excursion routes (some of them only upon request) in the most beautiful places in the area.
You can enjoy Ottobrata festival in Zafferana Etnea on every Sunday of October, so we suggest to spend at least a week in Catania surroundings, so you can do also some day trips during the week, while you are staying in one of our Villas in Catania.