The 2014 edition of "Ottobrata Zafferanese" comes as usual in early October in the province of Catania, in the charming little town of Zafferana Etnea.
The Ottobrata includes a series of events that will take place every Sunday of October in the historic center of the town: here you'll find a big market/exhibition of typical products coming from the area around Etna. Stands dedicated to handicraft and local products tasting. Established in the early eighties as a simple market-exhibition of local products, the Ottobrata has evolved over time in the direction of a complex event, full of different facets, which annually attracts hundreds of thousands of visitors, from all over Sicily and beyond.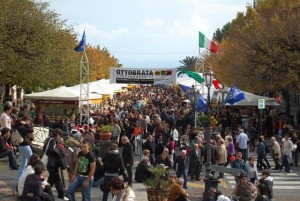 Along via Roma, you'll find the stands of Artisans, and then in the squares and the streets around the town centre you'll witness a magical atmosphere created by the performances of street artists. At the Villa Comunale workshops and activities will be promoted by the Slow Food project Sicily: there you'll have the chance to taste and buy Slow Food products, or stop by the wine or the street food stands. At night then, at the former sport center of Via Rocca D'Api, several bands will perform pop, jazz and rock music, beginning at 8.30 pm.
Ottobrata Zafferanese is a feast for those of you who love Sicilian traditions and the intense flavours of the island, the perfect excuse to visit Sicily in Autumn. Thanks to the mild weather, October is a fantastic time for a road trip across the country and who knows, if you're in Sicily in the right week you can also pay a visit to some great beach! Don't forget to check out our villas in Catania area to find the best accommodation near Zafferana Etnea.