Planning a holiday in Sicily for the upcoming summer holidays? If you're looking for tips and suggestions you're in the right place!
The most crucial point is choosing the best time to visit the destination of your choice. June could be a great time to come to Eastern Sicily: picking the right dates you have the chance to attend one of those events that can transform your holiday into an unforgettable experience.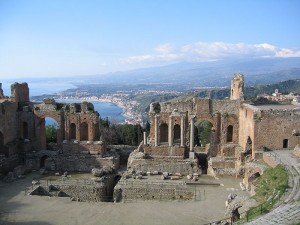 From June 14 to 21 the glamorous Taormina will host one of the most important cinema related events in Italy, the Taormina Film Fest, the oldest film festival in Europe. The event will be held at the fascinating Ancient Theatre, a Greek amphitheatre built early in the seventh century BC. In the past years, thanks to the Film Fest, its historic stage has been host to many legendary stars: Al Pacino, Martin Scorsese, Sophia Loren and Robert De Niro just to mention the latest guests. The prestigious event has come to its 60th edition: it's one of Europe's oldest movie fest, born in 1955 as "Rassegna Cinematografica Internazionale di Messina e Taormina".
If you're staying in one of our exclusive villas in Taormina you'll be in the perfect location: a few minutes away from the town and yet surrounded by the wonderful Sicilian countryside. The luxury estates we have to offer in the area will provide you all the comforts while allowing you to live the authentic atmosphere of the island.
Of course you can pick the fest's dates that interests you the most, but we strongly recommend not to miss the spectacular 3D screening of Dreamworks' "How to train your dragon 2", which will be this year's opening act. The captivating setting of the thousands-years-old amphitheatre transforms the screenings and the whole festival in a unique experience, without a true parallel in the world.
More detailed informations on the event are available on Taormina Film Fest official website. While if you want to know more about the area we recommend you to take a look at our Sicily Guide.