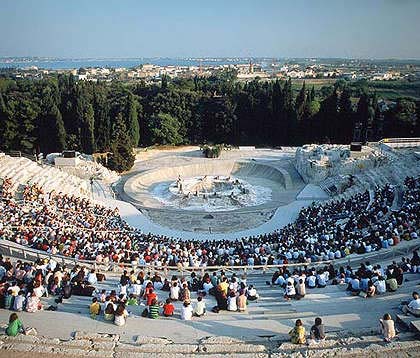 Every year the Greek Theatre of Siracusa comes back to life with new installments of classical plays. The tragedies are played in a breathtaking setting, the original Greek amphitheatre of Siracusa, turning into an unforgettable experience for the audience. Lovers of culture and art will enjoy the magic that surrounds the stone theater and the unique emotion you feel as a spectator.
This year's edition will start  in May: from May 13 to June 26 you will have the chance to watch Sophocles' Electra, the Alcestis by Euripides and Seneca's Phaedra. The INDA, the National Institute of Ancient Drama, has dedicated this edition to women offering to its public three magnificent performances starring female characters.
The shows of Electra by Sophocles and Euripides' Alcestis are scheduled from May 13 to June 19, Seneca's Phaedra June 23 to 26.
The National Institute of Ancient Drama (INDA) works since 1914 to revive the tradition of classical performances at the Greek Theatre of Siracusa. Only World Wars interrupted the path of this prestigious institute, which otherwise would never have stopped.
The beautiful Greek Theatre in Siracusa is a truly scenic place you have to visit at least once if you are spending your Spring holidays in Sicily. If you are still looking for an accommodation on the island you can check out our villas in Sicily to rent selection.
For more information and full program of the plays you can visit www.indafondazione.org.