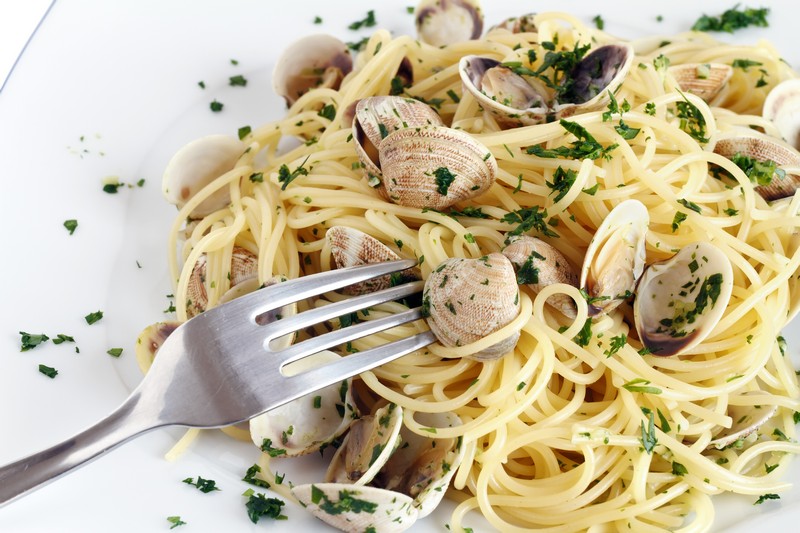 When summer is long gone, nothing brings our mind back to the warm rocky beaches of Sicily's Northern coast like a good pasta with sea food. Clams for example are a perfect ingredient, that can be easily found, easy to cook, and delicious to the taste. So today we want to tell you how to prepare a great Sicilian style first course: linguine with fresh clams.
Ingredients:
300 g of linguine
500 g of large clams
4 medium sized zucchini
1/2 cup of extra virgin olive oil
1 shallot
1 clove garlic
parsley, salt and black pepper
Preparation:
Wash and rinse the clams then keep them for a few hours to soak in salted water, changing it several times, so that they release the sand. Wash the zucchini and slice thinly. Pour half the oil in a baking pan, settle the zucchini, add just a pinch of salt and mix with a little finely chopped shallots.
Put the pan in the oven pre-heated to 180° leaving it for about twenty minutes until the zucchini are cooked. Meanwhile, heat the remaining oil in a frying pan and fry over low heat the garlic, peeled and lightly crushed. Add the clams drained from the water, cover and gently shake the pan, leaving it on the fire until the shells are all open.
Add the zucchini, chopped parsley and cook it all together for a couple of minutes. Cook the linguine in slightly salted water, drain when they're al dente and than finish cooking the pasta along with the dressing. Serve piping hot after adding freshly grinded black pepper