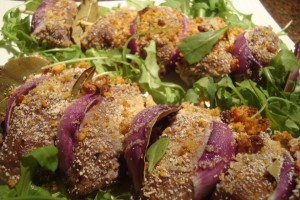 Think of a boring afternoon at home and try to make it better using passion and immagination.
Ask your grandmother for giving you a hand revealing some cooking secrets of hers. She is a real Sicilian woman and she knows lots of tips and techniques that have been handed down by her ancestors.
Your sweet, Sicilian granny agrees with your desire; maybe she misses her far land. She was born in Marsala, on the Westernmost point of the islanf and when you were only a child, you used to say you would be gone there, dreaming of a wonderful beach villa in Sicily.
Today she wants to teach you how to cook one of the most popular recipes of Sicilian cuisine, named "involtini alla siciliana" (Sicilian roulades), a typical way to enjoy meat.
Ingredients of Sicilian roulades for 4 servings

• 1 1/2 lbs. of veal in slices
• 5 oz. of breadcrumbs
• 2 oz. of grated pecorino
• 2 oz. of raisins
• 1 oz. of pine nuts
• 1 medium onion
• bay leale
• fresh parsley
• extra virgin olive oil
• salt
• pepper
Preparation
Sicilian roulades are a really appreciated recipe in Sicily and almost every town has its own version of the dish.
First of all beat the meat with a meat mallet; toast the breadcrumbs and let cool putting it in a bowl. Add the pecorino, the pine nuts, the dried raisins, the minced parsley and join a pinch of salt end pepper. Mix all ingredients with some extra virgin olive oil.
Spread the dressing on the meat and roll up every slice making roulades. Use some skewers to thread them alternating meat, peaces of onion and bay leaves.
Roast your roulades on a grill or fire.
Once you know how to cook Sicilian roulades, go to the stove: you will be able to join your special touch, just like Sicilian people usually does. Just a peace of advice for you: try to add pistachios in the stuffing.