In western Sicily they call it Cannatieddi, in Palermo it's Pupi cu l'uovu, but most of the times sicilians use the word Cuddura for this very typical and peculiar Easter dessert you'll be finding in almost every bakery, especially in Palermo. It won't be hard at all for you to recognize this delicious treats as they are made of dough wrapping an entire egg, shell included!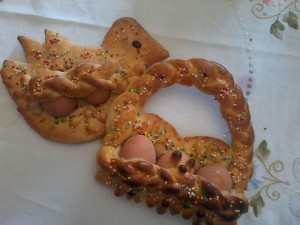 Lent was once a period of self-denials and deprivation for locals (no cheese, meat, eggs, sweets), following the most traditional religious rites of Easter; these deprivation periods would all end on Palm Sunday, and eggs were often used to prepare Easter sweets and desserts during the Holy Week. "Cuddura" is still one of the most well-known typical Easter treats: a large pie with an egg (or more than one) in the middle that young women used to give as a present to their lovers on Easter day.
See also: Sicilian Food: 5 delicacies you absolutely can't miss
The most common "Cuddura" is circular; however, plenty of shapes can be found according to the local tradition. In Palermo, "Pupi cu l'ova" are man- or woman-shaped, but you'll find them in other shapes as well – baskets (to wish prosperity), hearts (to share the love) and more.
See also: Holy Week Celebrations in Enna and "Procession of Misteri" in Trapani
If your holiday in one of our Sicily villas starts after Easter, however, do not worry. The recipe for Cuddura is surprisingly not hard: here are the instructions!
INGREDIENTS / Mixture
Sugar – 200gr
Butter – 200gr
Flour – 600gr
Eggs – 5
1 Lemon's peel
Vanillin
Baking powder
INGREDIENTS / Decoration
Colored chocolate sprinkles
1 beaten egg
INGREDIENTS / Frosting
1 Albumen
Sugar – 10-12 spoons
Lemon juice – 1-2 spoons
INSTRUCTIONS
Sift out sugar and baking powder and mix with the flour, then add the butter (soften it first) and the lemon peel; mix it with the eggs and start kneading thoroughly with your hands – or with mixer. The result should be a soft and mellow mixture which you'll be able to shape as you wish: a basket, a "pupo", a bird, a bell… just choose what you prefer. It is now time to add the hard-boiled egg: enclose it between two strips of mixture, so as to form a cross that secures the egg with the rest of the dessert. Brush the Cuddura with the beaten egg and place it on the baking tray, then garnish it with cloves and sprinkles. Cook for 35-40 minutes at 180-200°C.
If you wish to add frosting, then avoid brushing the Cuddura with the beaten egg before baking it in the oven. Meanwhile, prepare the frosting by whipping the albumen, add 10-12 spoons of sugar (slowly and blending steadily) and lemon juice. When the Cuddura is baked, take it out of the oven and spread the frosting, then decorate with colored chocolate sprinkles and let it cool down before serving.
Happy Easter and Buon appetito!