Are you coming to Sicily for the fist time? Well let's get you in the right mood. Regardless of where you come from you'll soon find out that this island is different from anything else you've seen so far. Its charm comes from thousands of years of history, and from that sense of contrast deeply bounded to the Sicilian spirit.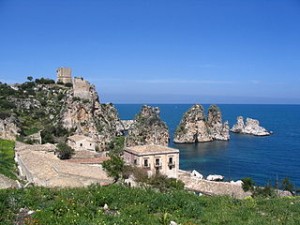 To fully enjoy your stay choose one the villas from our fine selection, maybe one right on the beach or a wonderful pool villa for a relaxing holiday in the countryside. Spending your holidays here you'll have the chance to truly soak up this unique and authentic atmosphere, and we want to give you a few tips on how to do it.
1. Take it slow
Time goes by slowly for Sicilians. You may not notice it in the crowded city centres of Palermo or Catania, but you'll surely get what we mean as you walk across one of the dozens of little towns on the coast. So don't rush it, take your time. Have a nice breakfast. Have one of those heartbreaking cappuccinos they make around here, maybe next to a sweet cannolo, and then start your day. No pressure.
2. Go up-country
Beaches are wonderful but don't let them overwhelm you. There's a lot more too see and yes, sometimes is isolated, hard to find and harder to reach, but it's totally worth it. Just try to drive across the country roads of Southern Sicily, mind your map, you could get easily lost, but here you'll find some of the best sights of the whole island.
3. Eat ice cream in a brioscia
There's a ton of stuff you can eat around here, literally. You probably won't have the time (or the stomach) to try everything, but if you're spending your summer holidays in Sicily you'll find the time for this: eating a brioscia con gelato, it's similar to a French brioche with ice cream in it. Choose whatever flavour you like but try it.
4. Keep it casual
There are a few highly expensive renowned restaurants around the island, that's true, but if you're looking for the most typical (and probably even the best) Sicilian food, that's not where you want to go. Look for the old trattorias, the ones with red-checkered tablecloths and rickety wooden tables: that's where you'll find the true flavour of Sicilian cuisine.
5. Be friendly
Sicilians are hearty fellows, they'll welcome you with open arms if you show a friendly attitude. They'll be more than happy to give you directions and tips, they can be quite fan and you'll make friends easily here if you want to.
To better plan your holiday we recommend you anyway to take a look at our Sicily Travel Guide.