We told you many times that Sicily is a land full of curiosities. In fact, summer in Sicily is not only sun, sea, beaches and ice cream. One of the most traditional custom of Sicilian families in summer is the preparation of "buttighi" that litterally means bottles. We are talking about home made tomato sauce preserves according to the most ancient Sicilian tradition. The canned sauce will be an useful stock for winter time, when there are not fresh tomatoes anymore. So every time that someone desires to eat spaghetti with fresh tomato sauce, in your pantry you have lot of jars.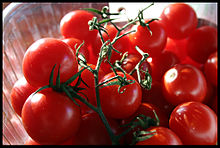 In summer every woman (from the great grand-mother to the youngest grand-daughter) has a meeting with her whole family around the "quarara", big cauldron, to prepare fresh tomato sauce. The setting is traditionally the house in countryside where all the family uses to spend summertime together or simply the house yard or a garden.If you want to live a similar atmosphere you can choose a Villa in Sicilian Countryside from our catalogue.
Anyway we are not talking about one or two kilos of tomatoes, but dozens of kilos of fresh tomatoes contained in tipical wooden boxes. So it's easy to understand the reason why every girl is called to help the family with this home made preparation that we'll  explain to you in the next post, giving you the complete recipe. Meanwhile we tell you the shopping list so you can get ready with the ingredients. The quantity is up to you unless that you have a big family helping you as the Sicilian ones do!
You will need:
– Fresh tomatoes;
– Onion and garlic (if you like it);
– Extra virgin olive oil;
– Fresh basil;
– Salt and Pepper.