Historically, the Carnival of Sciacca is in rivalry with the Carnival of Acireale. It is a party that is born "from below", in 1500: in the middle of the first celebrations there were the masks but above all a feast made with wine, sausage and cannoli. Since the '900 and, particularly after the war, that the Carnival of Sciacca is evolving, with the birth of the first companies and of allegorical carts,  increasingly sophisticated, which satirically fooled the local characters.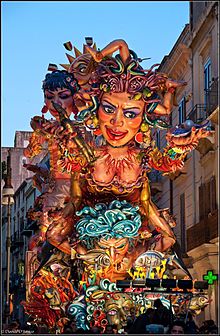 The preparation of the carts in Sciacca is a particular time, with a dreamlike atmosphere that becomes more and more hectic as the days of the party comes. The night before the parade is dedicated to the last assembly: the wagons are put on the street and assembled on site, giving rise to a preview of the festival. Carnival starts on Thursday before Lent with the symbolic handover of the keys of the city  to the king of Carnival, here called Peppe Nappa, character adapted from Sciacca people as a local mask that opens and closes the celebrations. And it is Peppe Nappa that, parading through the streets of the city, distributes wine and grilled sausages for the duration of the Carnival, until, the last evening of Shrove Tuesday, when he is given to the stake in the square accompanied by fireworks.
It would be nice for you to choose a Villa to rent in Sciacca, where you can spend your holiday and  enjoy Carnival time in Sicily.