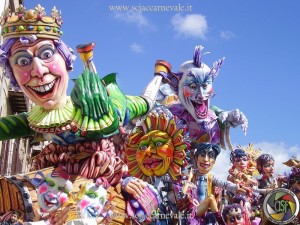 The Carnival of Sciacca is one of the most popular events that are held in Sicily during winter and surely one of the oldest: the first one who wrote about the carnival of Sciacca was Giuseppe Pitré in 1889, in his work on Sicilian folk traditions. The time of the Carnival is surely one of the best times of the year to visit Sciacca and its surroundings: you can take a look to our villas in the area to find the perfect accommodation and place your reservation for February.
The origins of the Carnival of Sciacca, a town in the province of Agrigento, date back to ancient times, perhaps even back to Roman times, as part of the Saturnalia celebrations. Then in 1616 the Viceroy decided that the last day of the celebrations held in February everyone had to dress up in costume.
Since then, the Carnival of Sciacca evolved and the "chariots parade" was introduced: huge figures were put on chariots and paraded around the streets; in years the chariots became increasingly sophisticated, local political satire left room for characters known to a wider audience. Along with the chariots come the masked groups, dancers and the brass band.
The shows take place on Saturday, Sunday, Monday and Thursday of the Carnival week, but the Carnival officially begins on Tuesday with the symbolic delivery of the keys of the city to the king of Carnival Peppe Nappa, character adapted as a local mask that opens and closes the festival. Ends on Tuesday when Peppe Nappa is burned in the main square.
This year's Sciacca celebrates the 115th official edition of the Carnival, that will bring along as usual a variety of side events, and, of course, a lot of people in town, wine and food stands, and a unique atmosphere.
pics by http://www.sciaccarnevale.it/