In Acireale, every year takes place one of the third most famous Carnival festivals of Italy, so you can't miss it all. We suggest you to rent a Villa in Catania to enjoy your stay during the days of Carnival.
In acireale, the Carnival was born spontaneously, with Saturnalia organized directly by citizens who, free from the constraints of social hierarchies, could mock powerful, nobles and clergy. In fact, one of the first forms of Acireale celebrations was the Abbatazzu that satirized on local religious people carrying around huge books improvising sermons: a symbol of arrogance and stiffness of the clergy.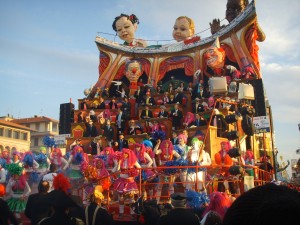 Today the festival fits perfectly into the context of the baroque old town of Acireale and has several exchanges with other similar festivals: is twinned with the Carnival of Viareggio and often hosts some masks of Venice. The Thursday before Lent parade the great characters of papier-mâché about satire and social themes, while Tuesday is dedicated to the suggestive wagons. Born in 1931 as cars, now they have large chariots decorated with hundreds of flowers that, thanks to mechanical movements and lights, make spectacular figures.  Acireale celebrations last 10 days with various shows and ending on Fat Tuesday with the Carnival King bonfire concluded by fireworks.