The purple artichoke of Ramacca has an ancient history that has its roots in the past of Sicily, when this precious fruit of nature was known for its aphrodisiac qualities and could not miss on the finest tables. A story that for 24 years returns to animate the Ramacca and not simply be a gastronomic event for gourmets, but is able to project visitors into a world welcoming and familiar where to rediscover the ancient traditions of a rural culture.
Curious crossroads of dialects, customs and traditions from all parts of Sicily, Ramacca encloses in its own kitchen and own customs all those cultures and traditions that are gradually go arriving in the country over the centuries. And so, together with the culinary delights that will transform the city centre into a kind of great gastronomic showcase, they are scheduled moments that will highlight the culture, traditions and craft and artistic skills of the territory.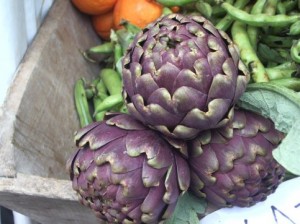 But the star will remain, as always, the violet artichoke of Ramacca: a very high quality artichoke known throughout Italy for its organoleptic and therapeutic properties. Visitors, in addition to taste delicious artichoke dishes can also learn more about its nutritional and healthful qualities: for several years, this event has crossed the boundaries of the province of Catania and by organizing exhibitions and conferences will address all issues related to the cultivation of artichokes in Sicily. At the same time, the festival will offer a great showcase for all local products, blood orange, oil, cheese, honey and wine, in addition to the fine local bread.
Shows and folklore and musical performances will be the background to all days, while for culture lovers are scheduled guided visit to some museums. The Artichoke Festival of Ramacca is history, culture, folklore and of course good food: those who decide to go this far in the first weekend of April certainly will not be disappointed.  The festival will continue also in the second weekend of April, so if you have the chance to spend more days in Sicily, we suggest you to give a look to the catalogue of the Holiday Villas in Catania to rent and to have a wonderful week in Sicily.