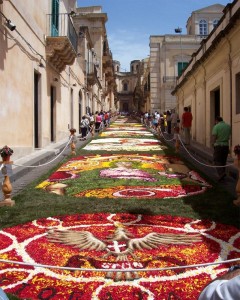 Flower fests are a typical part of Sicilian Spring. The most famous is surely the one in Noto, but the fashion spread quickly. This year indeed the first edition of Acireale Flower Fest will take place from April 23 to April 25.
Acireale is a Baroque town in the province of Catania and in a few weeks it will live a true Carnival of Flowers. The center of town will be colored and perfumed by thousands of flowers and floral decorated carriages. The parade of wagons adorned with flowers will mix with with street performers, exhibitions and markets.
The town of Acireale was founded by the Greeks and then passed under the Romans' dominion.
The terrible earthquake that hit the Eastern region of Sicily in 1693 forced a complete reconstruction of many cities and hamlets. Acireale then was rebuilt as a new town of Baroque splendor. While you attend the Flower Fest you can admire churches and palaces in the streets of the city; or pay a visit to Pinacoteca Zelantea. 
The whole Eastern coast is actually worth a thorough visit. You can follow the coastal road and plan an itinerary that will bring you from Messina to Portopalo di Capopassero visiting Catania, Siracusa and the beautiful Ortigia, and more. If you are a beach lover you can also take a look to our top 5 beaches of Eastern Sicily.