Let's start from the classic question: arancino or arancina, male or female? In Eastern and Southern Sicily, in Messina, Catania, Agrigento and so on the most famous Sicilian street food is a pear-shaped guy, while in the capital, Palermo, and in Western Sicily, arancina is a curvy girl, perfectly round if filled with meat, oval if it's filled with butter and cheese.
So who's right and who maked the best arancin*?
First things first: arancina in Sicilian means little orange and therefore is a female. Yes, the arancina looks like an orange, only it's made of delicious fried rice and filled with a variety of dressings.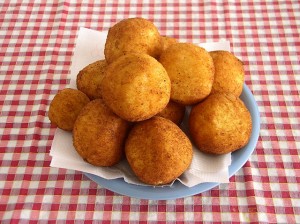 "Sex" and shape apart, arancina is probably the most Sicilian of all the street food: it is rare to find a recipe with such an extensive spread all over the island, loved in every single city.
According to local tradition arancina was created by an Arab emir. According to historical sources it could be a result of a common way of eating in the Arab world. The Arabs used to eat rice as "street food" holding some in the left hand and add bits of mutton meat. Over time that mix of rice and meat underwent a process of enrichment of taste and ingredients. Frying this balls of rice permitted to hold all the ingredients together: this is how one of the symbols of Italian street food was born.
Over the years a lot of different arancina dressings have been created, but the traditional ones are a rough Bolognese sauce (arancina alla carne), and mozzarella, ham and butter (arancina al burro).
In Palermo you'll easily find arancine with spinach and mozzarella; in Catania you have to taste the one with eggplants and pistachio; but the variants are truly never-ending: mushrooms, sausage, salmon, chicken, swordfish, seafood, pesto, shrimps. Our suggestion, if you want to try something off the beaten road is try one with the squid ink: simply wonderful!
On December 13, the feast of Saint Lucy of Syracuse, in Sicily, and Palermo in particular, the tradition imposes to eat arancine: you'll find them inside any café anytime of the year, but on Saint Lucy's day it will be almost impossible to find anything else, apart from cuccia, a dessert made with buckwheat and ricotta.