Spring in Sicily is truly great: the weather is mild, and during some hot mornings you can already go to the beach and take a swim, or just soak up the sun, without the crowds of vacationers pushing you in a corner. But this is not the only reason to choose springtime for a trip to Sicily. If you're thinking about visiting the island this time of the year could be perfect to enjoy many events, festivals and fairs that will go on until the end of the season. Among the others today we want to recommend the ones taking place in Syracuse, one of the most beautiful Sicilian towns, and one of the jewels of Southern Sicily. We can offer you a fine selection of villas nearby, to properly enjoy all the beauties of the area.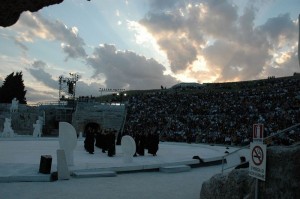 The city is famous all over the world as the beating heart of ancient Magna Graecia, and today it stands out as the main symbol of ancient Greek culture in Italy. Its amphitheatre is, along with the Ancient Theatre of Taormina, one of the most iconic examples of classical architecture on the island. The Istituto Nazionale di Dramma Antico (National Institute of Ancient Drama) organizes there, since 1914, performances of original Ancient Greek plays. The shows are performed in the exact same setting where they were performed thousands of years ago. This year we've got to the 100th anniversary of INDA's foundation and to the 50th edition of the Cycle of classical plays, which brings on stage the original Greek tragedies by the most famous playwrights, Aeschylus, Sophocles and Euripides among the others. 2014's season premiered on April 16 with the show "To Argo", and will go on with a packed schedule until June 20. We assure you that seating on the stone of the Greek Theatre and watch a live performance is a memorable experience that can turn your holiday into something unforgettable. The complete program of the festival is available on INDA's official website, while the tickets and multiple days passes are already available here.
But that's not all Spring 2014 in Syracuse has to offer. Starting on May 2, every week from Wednesday to Sunday at Foro Siracusano will be held a traditional fair. There you'll find fine examples of local handicraft and antiques, but a special care will be devoted to enogastronomy, thanks to the partecipation of a variety of local organic cultivators and winemakers of excellence. The nights of Syracuse will be animated by concerts and live shows that, along with all the cultural events connected to the fair, will turn the Foro into one of the main attractive spots of the whole city. Foro Siracusano's spring fair will go on until June 2.