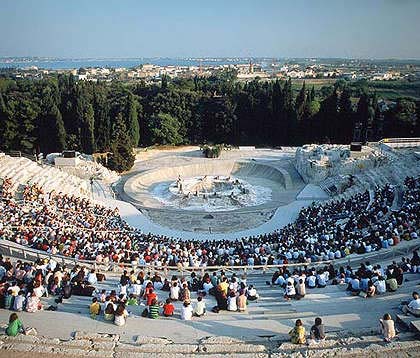 The Cycle of classical plays is  an event held every year in May in Syracuse, at the ancient Greek theater,  attracting visitors from all over the world. The Southeastern region of Sicily and especially the area of Syracuse are a great destination to visit in late Spring and at the beginning of the Summer. You can also check our catalogue of villas in Sicily to find the perfect accommodation in the area.
The shows are performed in the same setting and in the same way as they were back in the Magna Graecia times. The Inda foundation, that organises the event since the 1914, celebrated last year its centenary, while this year the Cycle reached its 51st edition. INDA brought on the theater stage the most important and original classical tragedies by the famous Greek playwright such as Aeschylus, Euripides and Seneca. The season starts on May 15 with Aeschylus' "Le Supplici" and will go on until June 28. This year's schedule includes also "Ifigenia in Aulide" by Euripides and "Medea" by Socrate.
The ancient theater was first built in the 5th century BC, rebuilt during the 3rd century BC and renovated again in the Roman period, and today it's a part of the Unesco World Heritage.
The complete program of the festival and more information about the plays are available on INDA's official web site.