Elegant, vibrant and fascinating, the Western coast of Sicily holds many wonders to be discovered and some of the most terrific sights on the islands. The historic city of Marsala and its baroque buildings and churches, is the very heart of the area, the centre of a region that counts some of the most beautiful naturalistic spots in Sicily, from the Nature Reserve of Stagnone, to the isle of Mozia, to the sandy beach of Signorino.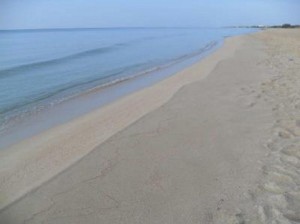 Signorino indeed has just received an important recognition getting the Blue Flag for Summer 2014. Water quality, provision of services, and environmental education are just some of the criteria examined by the Foundation for Environmental Education to the Blue Flag certification. Signorino beach with its thin sand and its crystal clear sea surely deserved the reward and is now one of the seven Blue Flag beaches in Sicily.
See also: 5 things to know before you go to Sicily
If you're planning your stay in one of our villas in Marsala though, this is just one of the many places you may want to visit. One of the main points of interest in the area is the Stagnone, a fascinating lagoon that includes four islands, the most famous among them is Mozia, well known for its Phoenician ruins. The island is really close to the mainland and it's a perfect choice for a one-day excursion: walking among the ruins of its ancient fortress at sunset is breathtaking. What Stagnone has to offer though isn't just naturalistic views: its beaches are a terrific spot for Kite and Windsurf enthusiasts. Last year the Reserve has been even chosen to host the only Italian stage of the Kitesurf World Cup.
Leaving the beautiful coast for a minute, we get to the inland to recommend a couple of spots you don't want to miss. One of them is surely the historic city of Marsala: surrounded by vineyards and hills, its name became wordly famous thanks to a DOC wine produced in the region. Marsala DOC is just one of the celebrated vine varieties grown and bottled here: some of the most famous Sicilian wineries are located in the area, from Donnafugata to Rallo and Florio.
Marsala is not far from Mazara del Vallo, whose architectural jewels are a legacy of Phoenicians, Greeks, Norman and Arab dominations and made it one of the most fascinating destinations in Sicily. Anyway, for more detailed informations on the area and on the whole island we recommend you to take a look at our Sicily Guide.