Once you get to know Sicily you get used to country fests and enogastronomic events, the one we want to talk about today though is a little bit different. It's called Ibla Buskers and gathers dozens of circus performers on the streets of Ragusa for a few days in early Autumn.
The festival has come to its 20th edition and will take place on the days between October 2 and 5. Live music, acrobatic and artistic performances will fill the streets, the squares and the alleys of the Baroque old town of Ragusa, named Ragusa Ibla, one of the gems of the spectacular Val di Noto.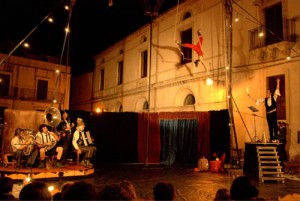 The area is very well known thanks to its beautiful Baroque towns, the best expression of Sicilian Baroque, built after a devastating earthquake of 1693 on the ruins of the ancient medieval towns. Ragusa Ibla is one of the spots of a traditional Baroque itinerary that includes the towns of Noto, Scicli, and Modica.
Ibla Buskers is a classic by now: the event puts on show the different disciplines of the circus, during the evenings of the festival: the result is a poliedric experience that captivates tourists and locals as well. Research and innovation are intertwined, the festival creates an authentic symbiosis between artists and spectators.
If you happen to be staying at one of our villas in the area you'll have plenty of shows to enjoy, atmospheres to discover, artists to appreciate. The world of buskers, has changed a lot in recent years, since it began the adventure of the festival, all these years the festival has been through deep changes, and every year there's something new that awaits the one who will attend the event.