Southern Sicily's wonderful contryside is once again the setting of an annual event promoted by Planeta, one of the most famous Sicilian wineries, since 1995. "A Sunday in the vineyards" gives you the chance to spend a day surrounded by nature and by the authentic Sicilian spirit, to discover the flavours of the most typical and renowned food and wine of the island.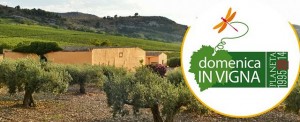 Sambuca di Sicilia is a little town not far from Sciacca, on the shores of Lago Arancio (Orange Lake). You may take a look at our villas in the area, or plan a stay in one of our villas in Selinunte, just a few miles away on the Southern coast. The surroundings of Sambuca and Selinunte will let you truly soak up the rural atmosphere of Sicily!
See also: Quick guide to Syracuse in Spring 2014
The event will take place in Planeta's Cantina dell'Ulmo on May 11 and then again on May 18. The program will guide you through an enogastronomic itinerary that will start at 11 AM with a taste of rustic Pizza and typical "Tumminia" bread with a dressing of local olive oil and cherry tomatoes "Kamarino". Along with the food Planeta will offer a fine selection of DOC Sicilian wines.
After this little aperitif the event will go on with a packed schedule that will turn the vineyards into the heart of a true contry festival: musical and theatrical performance will surround you with an authentic convivial atmosphere. Of course you'll also have the chance to visit the winery or buy some of the bottles you appreciated the most. For more detailed informations and reservations you can write an email to div@planeta.it . Anyway we recommend you to take a look at our Sicily Travel Guide to better plan your itinerary!