Palermo, Syracuse, San Vito Lo Capo, Taormina, Agrigento, Mount Etna: worldwide-famous destinations rich in stunning monuments and unforgettable sights. You don't want to miss any of these places when you visit Sicily, we get it. And of course, you wouldn't be able to see half of the wonders that Sicily offers you even if your holiday lasted one year. But that's the good news: it doesn't matter where you are staying – you'll be always surrounded by lovely towns, striking landscapes, idyllic beaches and much more.
But not every destination can be as well-known as the ones we mentioned before – which is good, because unconventional places are less crowded with tourists and therefore more genuine and authentic. So if you're looking forward to going off the beaten track, here are three unconventional destinations in Sicily – western area!
Gibellina. 
Located in the countryside of the province of Trapani, Gibellina is a must-see destination for all those who love modern design and architecture. The present town, also known as "Gibellina nuova", was built after the complete destruction of the old town after the massive Belice earthquake of 1968. Prominent Italian and international architects and artists were entrusted with the re-design of the new Gibellina, which is nowadays admired as a sort of open-air museum of modern architecture: from the main church, designed by Ludovico Quaroni, to the beautiful Piazza del Comune, a square surrounded by a large colonnade whose walls are embellished by finely-decorated ceramics by Carla Accardi. But the most striking work of art is the "Cretto" by Alberto Burri: a gigantic monument set on the old Gibellina, whose ruins have been cemented by the artist. A 10-hectar monument, one of the largest works of art in the world. And it's just one hour away from our Marsala holiday rentals!
See also: Unconventional Sicily: the catacombs of Palermo and their 8000 mummies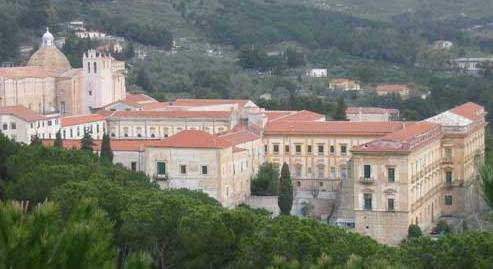 San Martino Delle Scale.
The verdant low mountains that surround the "Golden valley" (Conca d'oro) where Palermo, the capital of Sicily, was founded by the Phoenicians around 734 BC, hide delightful and lovely relaxing spots, perfect for those who are looking for a closer contact with nature and to escape the chaotic city. San Martino Delle Scale is a little suburb of Monreale, the world-famous village just outside Palermo, that houses one of the most marvellous cathedrals you'll ever see. Just a few minutes from this astonishing landmark, an important Benedectine monastery is set among the hills and surrounded by low mountains all covered in verdant woods. The air is clean and chilly, the atmosphere is peaceful and quiet, and the hills are rich in clearings, perfect for a picnic lunch. This is San Martino delle Scale: a day in complete contact with nature, with the chance to taste the most traditional typical cuisine in one of the local restaurants.
See also: Street food in Sicily – our top 5 if you wish to find the perfect food for your packed lunch in Palermo, the capital of street food!
Capo Feto beach.
Some of the most beautiful beaches and bays can be found in western Sicily, from the three-kilometer long white sandy beach of San Vito Lo Capo to the idyllic secluded bays of the Zingaro Nature Reserve. However, they are usually overcrowded in July and August. If you are looking for a pristine light-blue sea and a kilometer-long sandy beach without having to walk for hours to find a tiny spot for your beach towel, it's time to go off the beaten track and discover Capo Feto, part of a protected area not far from Mazara del Vallo and Marsala. The beach is not easy to reach as there is no proper street – you'll have to walk through a former swamp for a few minutes, but it's totally worth it! The beach is large and long, and the water… just amazing. One of the cleanest and most pristine you'll find in Sicily; the area is quite windy, so kite-surfers love to join the beaches nearby. And since it is not easy to reach and still basically known only among the locals (the area was a former swamp which has been reclamated only recently), you'll find plenty of space available – even in August!
Did you go off the beaten track during your holiday in Sicily? Which wonderful unconventional destinations have you found? Let us know in the comments below!